Opening Ceremony a rencontré Stromae dans les bureaux d'Universal il y a quelques jours a New York. Voici l'interview (en anglais) :
PIETER COLPAERT: Bonjour Stromae! You have been on tour almost non-stop this year. How are you feeling now?
STROMAE: I am feeling good, 'cause I had some rest. It's the paradox of being human—having ambition is great, and if I don't play a lot of shows I get unhappy, but at a certain point you just realize you are really tired. I felt that my body couldn't take it anymore, so I took some holidays.
In an earlier interview with Complex, you mentioned wanting to take a break—maybe three or four years. That caused some uproar; it was all over the newspapers back in Belgium…
You know, I have been talking about taking a break for a long time and I am definitely planning on it. I wouldn't even call it taking a break—people expect me to be making music non-stop, but between the first and second album, there was a pause of three or four years as well. Back then, I also said: « I need some time to work, to rest, and to live a bit so I have things to talk about » Back then, no one cared. It's the paradox of success: you'll say things that are perfectly normal in life, and then you'll see newspapers, saying: "Shocking! Stromae is taking a break!" It's not the end of the world, you know. I am doing my tour, until September 2015, and when that's over, you won't see my face for a little bit. Even I am tired of seeing my face! [Laughs]
Conquering America always seems to be some kind of "final frontier" for European artists, especially when they are not singing in English. This is your first full tour of North America. Is having success here important to you?
Yes, it is. I think I am more sincere when I am singing in French—and I think that anyone, anywhere would want me to sing in the language I can be most myself in. I understand that it can be difficult for Americans to listen to music when it's in French, but I believe I can build something here, and I am working on it.
Have you been recording any new music during this tour? I saw that you were in the studio with Rudimental… Can we expect any new music?
You know, I don't like talking about collaborations and stuff, because I feel that once you start talking about them, they don't actually happen. Case in point: nothing has come from that Rudimental collaboration yet. I love what they do and would like to work with them, but that's why I don't want to count my chickens before they hatch. We'll see what happens. What I really want to do, actually, is compose music for others. I don't just want to sing over someone else's beat.
What's great about your music is the unique mix of styles—influences ranging from Jacques Brel and Cesaria Evora to hip-hop and dance music. It may sound cheesy, but everyone, no matter their age or where they're from, seems to find something to enjoy in your songs. That universality, is that something you're chasing when writing your music?
Yes, definitely. I always say that simplicity can be quite difficult. The naïveté of a young child is lost when you grow up, so you'll have to think about it twice as hard to recreate it. And that's really important to me—it's the greatest compliment to me when kids love my music, because it's proof that I managed to keep that simplicity. It's really the greatest compliment you can get, when everyone can find something in your music, without falling into the extreme of wanting to make exactly what people want to hear. I still make music for myself, in the first place. But it is something I think about, like with the clip for « Papaoutai, » making it really easy to understand for everyone, whatever language you speak or whatever culture you're from.
Your style is unique as well—everything from your videoclips, TV appearances, and concerts look like you tried to create an entire world around the concept "Stromae." Do you consider Stromae to be more than just music—a persona or concept?
Yes. I see it as a project, as a profession. Stromae has become a character—several characters actually: in « Tous Les Memes, » « Formidable, » « Papaoutai »… It's also a kind of shield, a way of distinguishing between the person Paul Van Haver and Stromae, the character. It has become more of a project, and it's definitely more than just me. I am the face, but there are a lot of different people contributing ideas, and they are often more important than the ones I am contributing. Stromae is a team now.
You have your own label for this, Mosaert, which creates music, videos, fashion, graphic design. What has been the most fun? Are there any new creative challenges you'd like to take on?
I want to explore creativity in all different forms of expression—whether that's cooking or architecture or whatever. There are millions of options. I like trying new things, but I don't feel the need to commercialize them necessarily. I have been dabbling in fashion, but at lot of those things, like the shirt I am wearing now, will never be commercialized. It would be way too expensive to make these, so I think it'd be indecent to sell them—I'm happy just having it for myself.
Nevertheless, you are pretty savvy when it comes to the business and marketing side of things—is that something you enjoy?
Well, I have never considered myself the type of artist who wants to distance himself from the business side of things. It's all part of the process, and you can definitely be creative in that aspect as well. When there's no money, it gets interesting. When you have to be economical about your choices, it really pushes your creativity. When there are no limits, it's much harder to be creative—and money is a limit, so it pushes your creativity. It's a really important element, but I try not to have it pollute me too much. That's why it's important to me to keep doing things that are not commercial too. It's why I chose not to have merchandising, for example—even it could have made me a lot of money.
Another thing that always pops up are your lyrics, since you don't shy away from big topics—AIDS and racism, for instance. Journalists have called you all kinds of things: the voice of a generation, of Europe's disillusioned youth. Does becoming a symbol like this bother you?
Well, I believe you can't really be the voice of anyone except yourself or your family. I make music for myself first, for my family second, and everyone else comes last. Let's say it's 50 percent me, 30 percent my family, and 20 percent for everyone else. I don't want that to change. People ask me all the time: what's the Belgian spirit? I may have my own vision of this, but it's different for everyone.
Regardless, you've become a great source of pride for many Belgians, and for some even a symbol of a certain Belgian identity, a unifying figure in a country that's quite divided…
As I said—I don't know if I have a role to play except for making my music. What I want to say, I say in my music. I don't know if I see myself as a unifying figure—I am more a humanist than a territorial person. Of course, Belgium is a part of me, and I am indirectly influenced by it. But I don't want to speak for all Belgians, and I am definitely not a politician. I'm lucky that in my job, I can be quite selfish. [Laughs]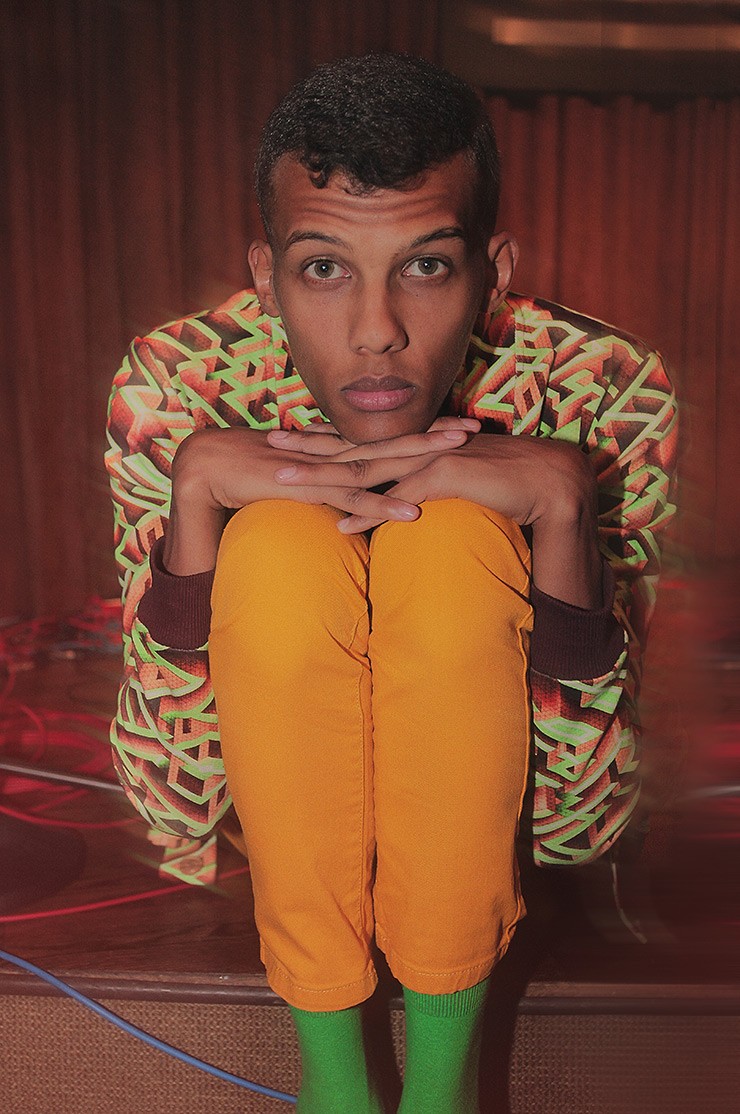 [/url]